Paella de Marisco (seafood paella)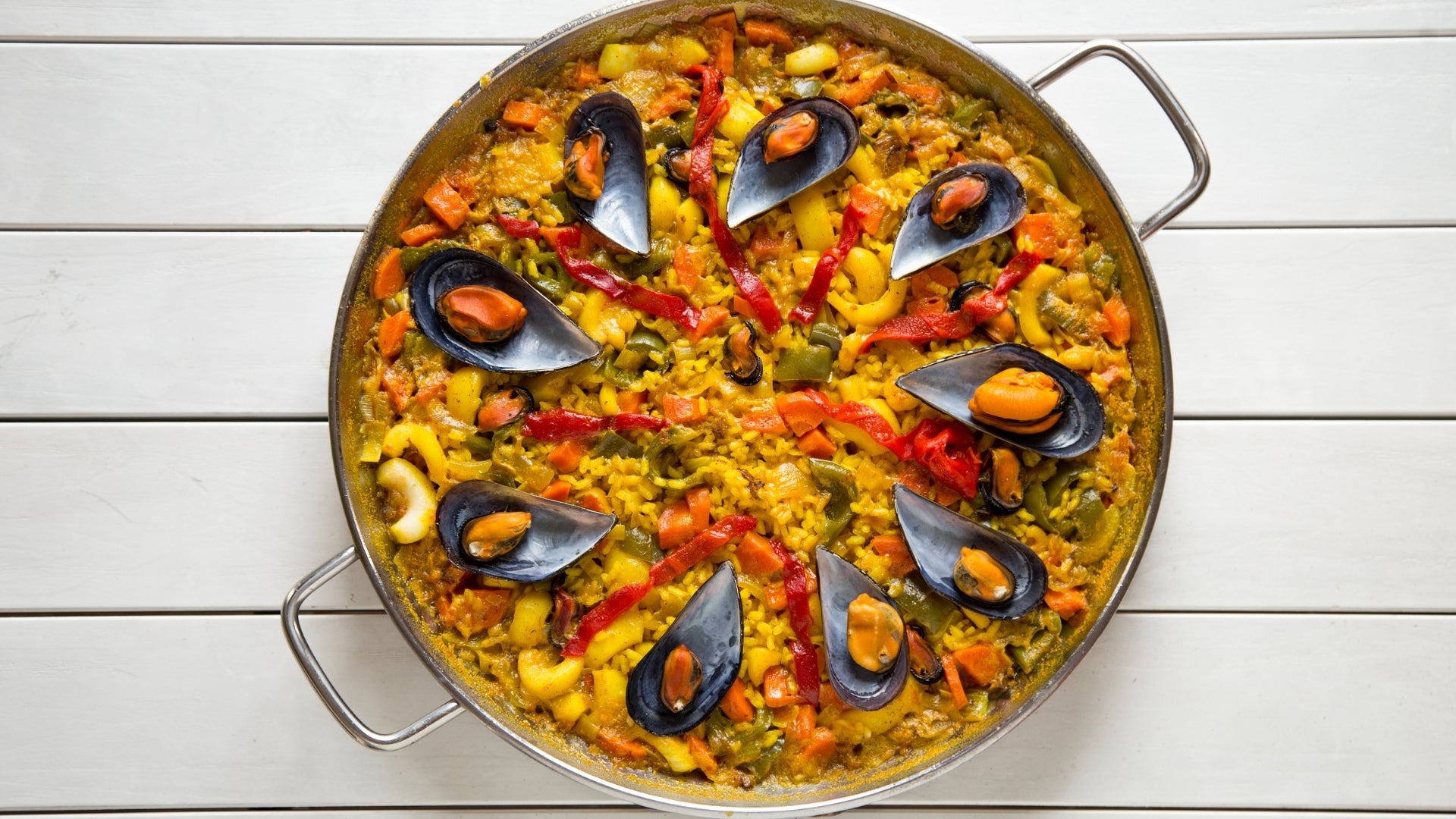 Seafood paella is an indispensable dish during summer holidays all over the Spanish coast. As with many other Iberian recipes, there are no exact paellas. Each chef gives him his own personal touch by providing ingredients or types of preparation.
Paella consists of a variety of ingredients, although I personally like to add the right amount of each ingredient without overloading it. It is important that both the rice and the rest of the ingredients are high quality in order to achieve an optimal result.
Ingredients

(for 4 guests)
400g Bomba rice.
10-12 mussels.
200g squid.
1 litre fish broth.
1 onion.
1 clove garlic.
2 ripe tomatoes.
1 carrot.
1/2 red pepper.
1/2 green pepper.
50ml de white wine.
Salt.
PAELLA WITH SEAFOOD PASO A PASO
Peel and finely chop the onion and garlic. Wash and dice the green pepper and carrot. Rub the tomatoes and clean the mussels and squid.
Place the paella pan on the fire and add a olive oil generously; when it's hot, add the mussels, add the wine and stir it when the mussels open.
Add the onion and leave over a medium heat for 2 minutes, add the peppers and fry them until soft. Then add the chopped squid.
Wait a few minutes and add the peeled and crushed tomatoes, salt and pepper. When the tomato water has been absorbed, add the rice. Let it be for a few minutes and stir from time to time.
Add the fish broth, saffron and paprika "Pimentón" de la Vera. Cook for 8-10 minutes. Remove the paella from the stove. Add the mussels and cover the paella. Leave it resting for a few minutes and serve.
DIE FAVORITEN UNSERER COLONOS