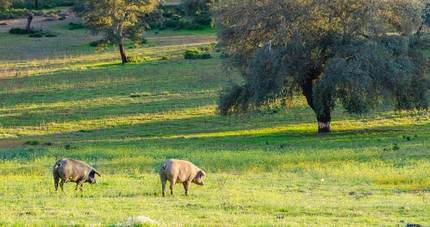 Ibérico Ham
Rohschinken "deluxe" aus den Dehesas
Ibérico Ham
What is Iberian ham?
Spain has perfected the art of producing and curing hams for generations and is the world leader in the production of Iberian ham. An Iberian ham to be considered as such must come from pigs with a minimum of 50% Iberian breed and depending on their feed and the purity of the breed is classified as follows according to Spanish legislation:
Jamón Ibérico de bellota: hams from Iberian pigs reared free-range in the dehesa and fed on acorns during the montanera. Cured for a minimum of 36 months.
Jamón Ibérico de cebo de campo: hams from Iberian pigs reared free-range in the pasture and fed on cereals.
Jamón ibérico de cebo de cebo: hams from Iberian pigs reared on a farm and fed on cereals.
When you buy an Iberian ham, look at the colour label that certifies the quality of the Spanish Iberian ham, according to the following categories:
Black: 100% acorn-fed Iberian ham or "pata negra".
Red: Ham with at least 50% acorn-fed Iberian breed.
Green: Ham with at least 50% of the Iberian breed of "cebo de campo".
White: Ham with at least 50% of Iberian cebo de cebo breed.
Taste of Iberian ham
When trying to define the taste of Iberian ham, the first taste that comes to mind is salty, but we could also say that it is a little sweet. In truth, the taste of Iberian ham is described as umami. This "umami" taste was first described by the Japanese scientist Kikinai Ikeda and means delicious taste. Other foods that can be described as umami are anchovies, Manchego or Parmesan cheese, tomato or soy.
Buy Iberian ham
Buying Iberian ham online nowadays is very easy. At Colono you will find Iberian ham in various formats, from prestigious producers who have been producing Iberian ham for decades, recognised in Spain and in the most demanding markets. These are the formats in which you can buy Iberian ham in our online shop:
- Hand-cut Iberian ham
- Hand-sliced acorn-fed Iberian Ham
- Boneless Iberian shoulder ham
- Packs of Iberian ham with other Iberian sausages
Slicing Iberian ham
Cutting an iberian ham without the necessary tools and knowledge can become quite complicated. Moreover, if there are only a few of us at home, the ham can dry out if we do not cut ham regularly.
For this reason, our recommendation is to buy Iberian ham in envelopes that have been expertly hand-sliced and vacuum-packed. This way you only consume what you need and you can be sure that it is always perfect.
Storage of Iberian ham
If you have been given or bought an Iberian ham as a gift and have not yet started it, you can store it for at least 12 months without any problems, simply by keeping it in a cool, dry place away from sunlight. Bear in mind that during this time the Iberian ham will continue to cure slowly, so it will become harder and less juicy, and at the same time it will lose some weight.